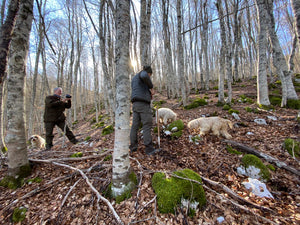 Are you ready for an unforgettable truffle safari in Italy?
We will have an amazing day trip through the woods north of Rome, hunting truffles with the help of our trained dogs, while passing through areas rich in history and of outstanding natural beauty. After our hunt we will learn how to prepare and cook our truffles and enjoy these delicious dishes with a very good wine at a beautiful location. I am looking forward to meeting you and sharing my truffle passion!
Truffle Experience - key information of one experience:
- Price: €99 per person
- Time: ~6 hours
- Participants: Can be a mixed group (between 2 and ~10 people) from truffle lovers all around the world
- Date: After having bought the Truffle Experience, this voucher can be redeemed within one year. Please contact me at least 2 months before you would like to join the experience (or even better before buying), so we can fix a date together.